Jul.05, 2012
in
Uncategorized
ARTISTIC FILTER: Colored Pencil Filter
The Colored Pencil tool as the name implies is used so as to give an image an effect which looks as the same as if it's drawn with the help of a colored pencil. It is one of the most commonly used tools for the abstract designers in Adobe Photoshop.
SCREENSHOT OF COLORED PENCIL TOOL
The Control Panel of this Filter includes Pencil Width, Stroke Presure and Paper Brightness from your Adobe Photoshop screen.
In the screenshot the minus sign is used for decreasing the size of zoom and plus sign is used for increasing the size of zoom. Right below the preview of the picture Pencil Width tool is given along with Stroke Pressure and Paper Brightness options.
First of all the image is given in a separate window and a sign of minus (-) and a sign of plus (+) are given in order to control the preview of the effect. The zoom percentage ranges from 16% till 1600% that is maximum depending on the image size.
The Screenshots of Minimum and Maximum Zoom are as under:
Zoom 33%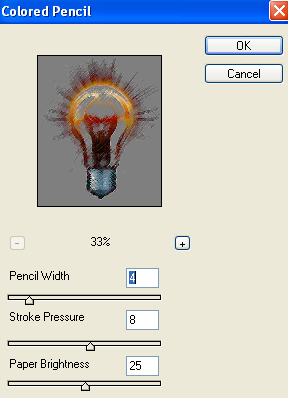 Zoom 1600%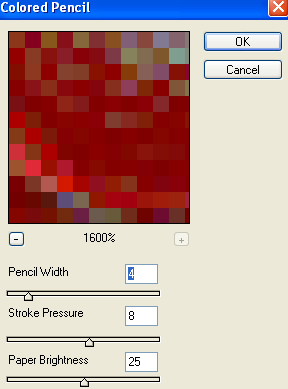 The main tool used in this Artistic Colored Pencil Filter is Pencil Width tool. The user is supposed to select the Width of the Pencil ranging from 1-24. 1 is for very thin pencil width and 24 are for selecting a thick width respectively.

Stroke Pressure depends on the Foreground and Background Color which is chosen by the user. Range of Stroke pressure is between 0 and 15.

Lastly the Paper Brightness tool is given which has got the range of 0-50. 0 is for less brightening up of image and 50 is for maximum brightness the tool can offer.

Comments are below